Free Executive Report Reveals Everything You Need To Know About The 23NYCRR500, New York's First-In-The-Nation Cybersecurity Law
One of the biggest threats to your agency these days is actually your NYDFS Cybersecurity compliancy – or lack thereof!
Effective March 1, 2017, the Superintendent of Financial Services promulgated 23 NYCRR Part 500, a regulation establishing cybersecurity requirements for financial services companies. 
NY Department of Financial Services Cybersecurity Requirements are incredibly confusing, and the fines for not being compliant can be debilitating.
Fill in the form to the right to GET INSTANT ACCESS to a brand new report for you to use to help you start to double-check your compliancy.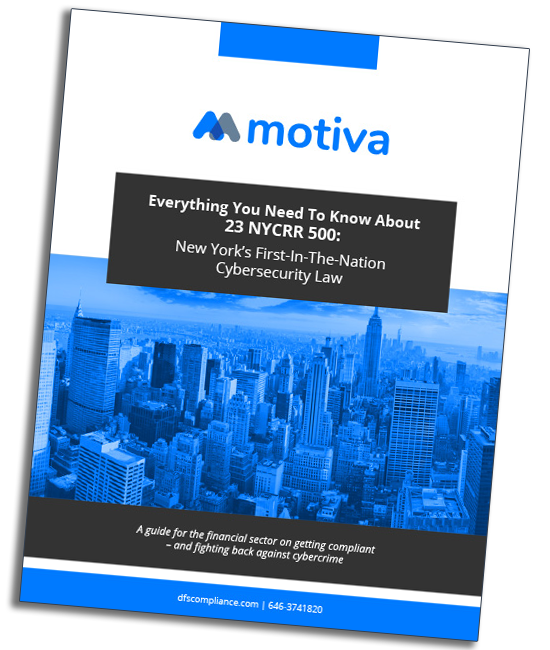 Any C-Level Executive or Operations Manger of Financial Institutions that are required by Law to comply with the Department of Financial Services NYCRR500 Cybersecurity Law. Basically anyone that has a license issued by the State of NY from the Department of Financial Services. And is concerned with the yearly and ongoing certification of compliance. This is of particular importance for those organizations that handle ANY sensitive data such as names, social security numbers, credit card and financial information. What is considered PII (personal identifiable information), or who simply want to avoid having DFS issue a fine for non-compliance.
Fill Out Form To Download Your FREE Report Instantly Or Call
(646) 374-1820

Now!
Sign Up To Get your
FREE
COPY Today!
"With Motiva, we feel confident that our cybersecurity needs are meet competently, not having to worry about the DFS Cybersecurity Compliance, and having system-wide network security."
"One call to Motiva if any problem arises with our phones or computers. The cost savings of consolidating to one service provider."