Ransomware Attack Temporarily Shuts Down Dole North America
Dole Food Company, a multibillion-dollar producer and distributor of fresh fruit and vegetables, is actively dealing with a ransomware attack, causing shutdowns of its production plants in North America and halting its food shipments to grocery stores.
"Dole Food Company is in the midst of a Cyber Attack and have subsequently shut down our systems throughout North America," Emanuel Lazopoulos, senior vice president at Dole's Fresh Vegetables division reported. "Our plants are shut down for the day, and all shipments are on hold."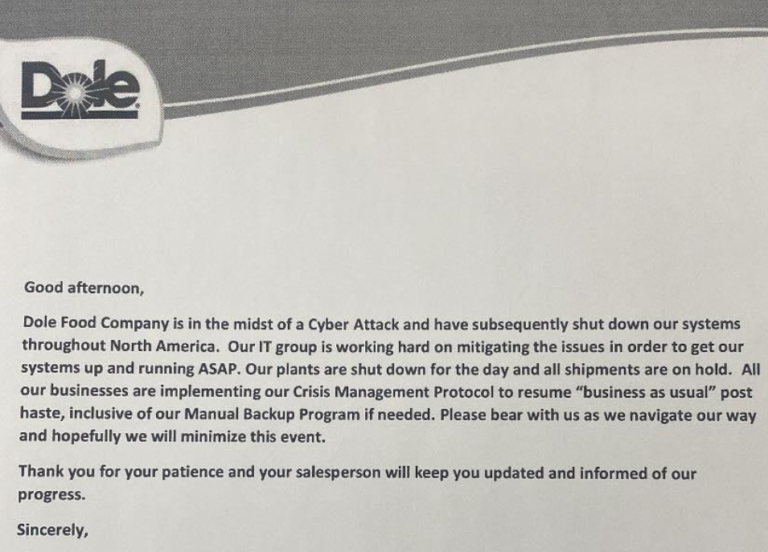 In a statement made by Dole it mentions that they will be implementing a "crisis management protocol" that includes a "Manual Backup Program." The company also has reported that they have engaged with third-party cybersecurity experts to help with the restoration and security of impacted systems.
Dole allegedly shut down computer systems soon after the hack began, reports say.
Ransomware is a malicious software that encrypts computer files and demands a ransom payment in exchange for the decryption key. It is a growing concern for individuals and organizations alike, as it can cause significant financial and reputational damage.
Dole has stated that the attack was "limited" in scope, however other sources coming forward are hinting that Dole products, such as salads and salad kits, have been missing from grocery store shelves for days.
Dole nor the US Department of Agriculture have made any further comments on the attack at this time.
The increasing frequency of ransomware attacks highlights the importance of implementing robust cybersecurity measures to protect sensitive information and data.
By taking these preventive measures, individuals and organizations can reduce their risk of falling victim to ransomware attacks and protect their sensitive information and data from theft.
With over 25 years of experience, we at Motiva Networks can help you plan and see if your data has been compromised with a Free Confidential Cybersecurity Risk Assessment. Or you can schedule a quick 10-minute call to discuss the best options for your Agency or small business, or go over any questions you might have HERE.