Where are the biggest security pains for small businesses?
Email
Subpar antivirus antispam doesn't catch attacks.
Users click on ransomware and phishing links.
Accidentally send confidential data
Mobility
One extreme: Prohibit use because of security concerns
Or the other: Don't provide any protection for data on devices
User credentials
Users have same passwords across all accounts, increasing risk if compromised.
Attackers have sophisticated methods to easily steal credentials
Compliance
Standards don't change based on company size
Requirements for GDPR, DFS and other regulations are rigorous and complex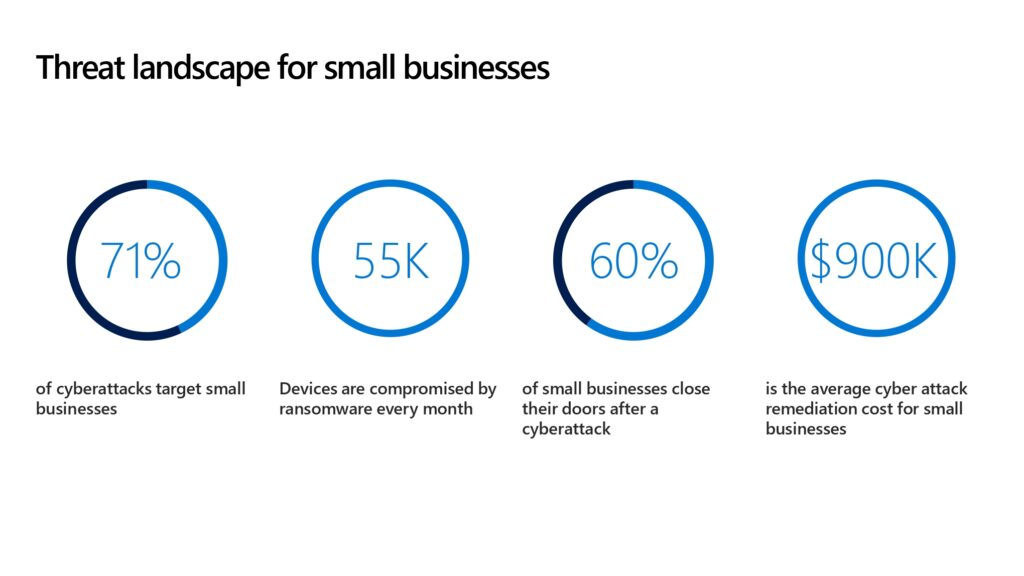 Why don't small businesses have the security they need?
Common misconceptions about small businesses contribute to the problem.
1. Security is too complex
While SMBs may not have in-house IT departments, that doesn't mean they can't implement comprehensive security. Technology and services can radically reduce complexity while also providing strong protection.
Security is too expensive SMBs typically spend about 15% of their budget on security or $1,320/user annually. To increase protection, you don't need to necessarily increase IT spend – just adjust how you are spending your dollars
2. Security is not a business priority
Small businesses that deal with customer information – whether they are retail, financial, health care, or food services – have the same accountability to secure data as big enterprises, so they need enterprise-level protections.
Microsoft 365 – a new way to reduce risk:
One solution: Cloud platform simplifies deployment.
Reduces costs: Eliminates costs for multiple third-party vendor solutions and at the same time Reduce maintenance and management costs.
Aligns with business goals: Security built into your productivity platform.With Microsoft 365 you can protect business against risk-related costs